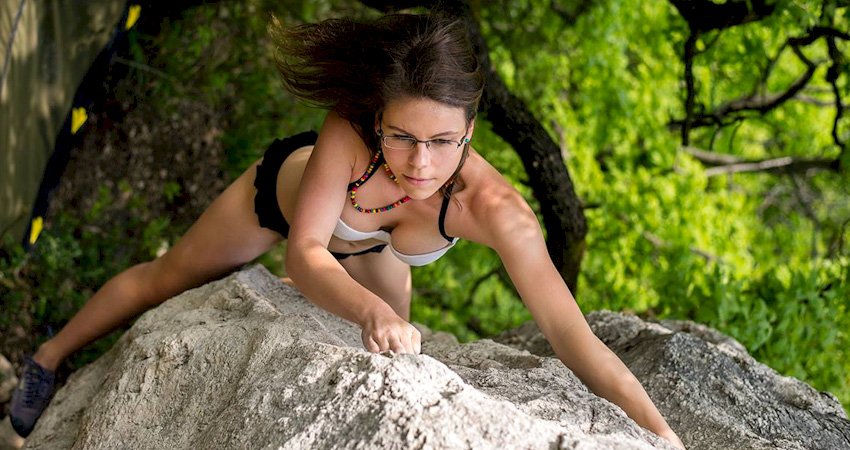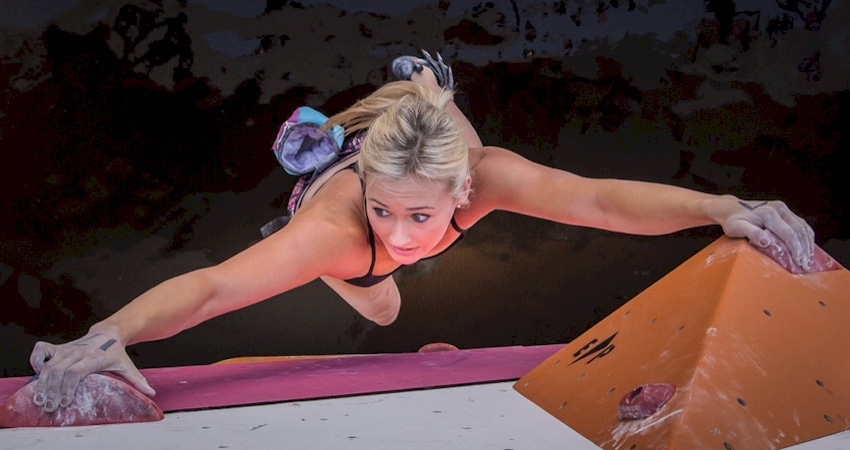 Everything You Need To Know About Sexy Rock Climbing Babes
After 14 years of rock climbing, I think rock climbing is a worthy pursuit. But, hey, I am biased.
Rock climbing is a physically and mentally demanding sport, one that often tests a climber's strength, endurance, agility and balance along with mental control. You climb up, down or across natural rock formations (usually a pre-determined route) or you can simply go to your local rock climbing gym (indoor climbing) and practice on rock climbing walls and have fun.
Ideally this sport is for individuals that are seeking a higher than standard level of fitness, stamina, and have incredible amount of focus and determination. That does not mean you have to have these qualities to start but if you want to become a serious rock climber then you probably need to take a serious look at your level of commitment and tenacity and desire to succeed with your rock climbing goals. You need a strong mind and a strong body. Some people are instantly attracted to it. Others
need to find their way. You can be a bit of a daredevil or an adventurer or someone who wants to accomplish something very self-gratifying.
Rock climbers have to overcome many aspects before climbing and mastering the rock face from gravity and fatigue to keeping the mind strong and focused. All athletes and those who compete in everyday challenges have egos, which must be satisfied. This means that climbers climb progressively more challenging rock faces to increase their level of physical competence, climbing techniques, and the mastery of their mind. Of course this is all accomplished through individual practice but different personalities overcome and overpower these s the physical and mental battles differently. Only time will tell if a person can become a very good rock climber.
However, this is indeed a very dangerous sport. You will need to learn many safety techniques and common sense practices. You will need to be reasonably fit, have an experienced instructor to start you off, and get proper equipment with clear instructions on using your equipment. If you talk to anybody who has been climbing outdoors for more than 5 or 10 years, they will tell you that they have known someone or have met someone that died during rock climbing. Some of us call it a 7 year incident. This is usually an incident that one would survive or not, but if they survive it will always stay with them.
But despite my somber advice on safety, I would tell you that there are very few things on this planet as satisfying as a good session of rock climbing outdoors with good friends, especially if you pick a challenging route. Also, rock climbing is hardly an individual sport. You have a rock climbing partner at the very least, and in fact, most rock climbers I know, have multiple rock climbing partners. As busy work schedules, travel options, and family circumstances often dictate our hobby time, most rock climbers tend to have a handfull of climbers at or near their level that they climb with. This partnership is a very important partnership and has a certain amount of trust built between two individuals that hold each others lives in their hands. My point being, you will end up building some very close and endearing relationships with your fellow rock climbers.
Apart from building good relationships, one has to build his/her mental strength to excel and enjoy this sport at high skill levels.
Climbers must endure many physical and environmental challenges, and most rock climbers I know, would probably complain about weather most of all. They must power through the unpredictable situations of weather. If the heat does not begin to wear the climber down the cold will. The consequences of being caught in bad weather are the psychological effects that it will pose. This is quite a stressful situation that a person must learn, often through practice, to control. Once you accept the environmental circumstances you will have to battle it and win. It requires physical abilities as well as mental strength to overcome the obstacles on the way to success. Winning is all that matters, it is all that you hope for, it is all that you can think about.  The rock climber has to make all the right choices or he/she will be defeated. The body can only handle so much pain, but, if properly trained, the mind controls the body and the climber controls the mind.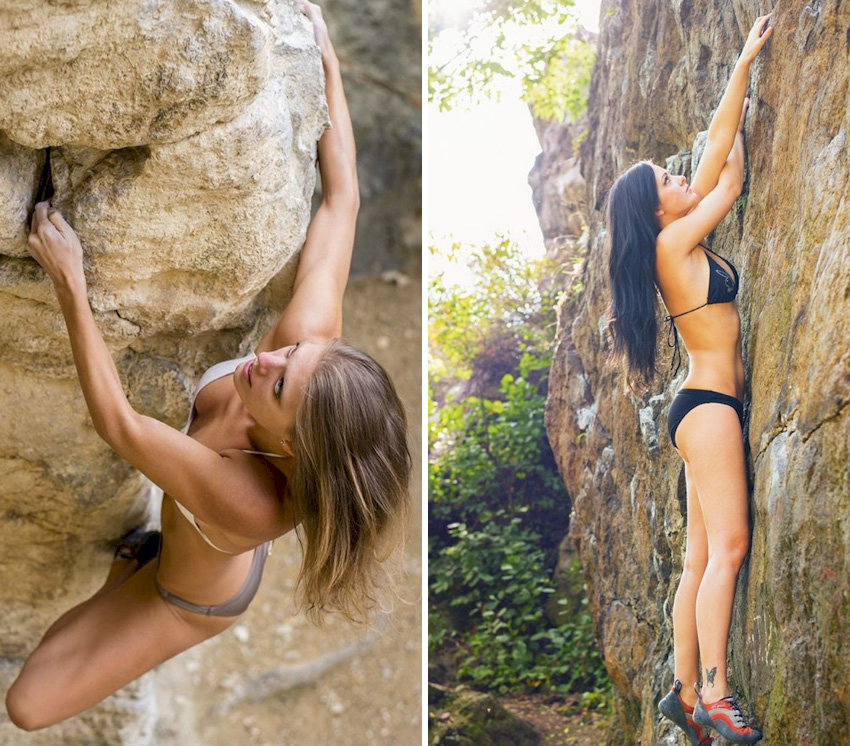 There is a lot of risk in rock climbing, from complexity of route, to physical and mental strength, as well as the weather conditions. The high risk factor is precisely why serious rock climbers do this sport instead of playing chess in the comfort of their living room. Many years ago, when I first started rock climbing, I said to my friends, "I think rock climbing is like doing a marathon against the gravity while playing chess against an expert poker player".  You have to have all your senses working at the best and most optimum. Climbers tend to enjoy and love the rush they get when putting their lives on the line. All the things, which could possibly go wrong, and often do go wrong, are a thrill to them.
They find fear attractive to channel their focus and wake up all their sense. The fear in fact can be liberating. It forces the mind to let go of the habitual thoughts that we have been conditioned with, and instead for the mind to become more primitive and instinctive. Mind, body, and customary attitudes can be manipulated to focus on the challenge at hand and strengthen one's control the adrenalin rush so the climber can go longer without fatiguing shifting the mind to subliminal tasks of control physical pain while the brain is taking over to overcome the a physiological battle to win the physical one.
So there you go, that was a little bit about rock climbing. Next, I want to describe why I believe some of the best rock climbers I have ever met, were women.
In my opinion, I have experienced many times that women are more likely to follow rock climbing instructions more carefully. In particular they use their legs to advance up the face of the rock and are more likely to use and implement technique. When they have to improvise, they are calm, cool, and calculating and solve the puzzle of how to go around an obstacle and go all the way to the top. Whereas men tend to be aware that they have an upper body strength to haul themselves up the face and ignore technique. Not only this is not necessarily the smartest thing to do, men end up using up all their energy when instead they could have reserved much energy and could have been more economical with the use of strength and reserved it for when it was really needed.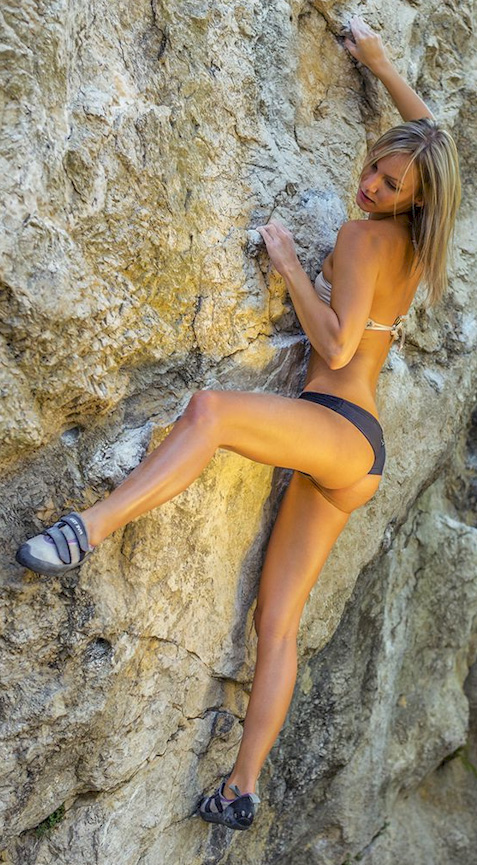 As is the case with gymnastics, which is why women are quite good at the sport, women generally have a very high strength-to-weight ratio, which is also a huge advantage in rock climbing. Many experienced rock climbers believe that women have a physical advantage as well as a mental strength which makes them better rock climbers, generally, than men.
Generally speaking, women rock climbers are also more intent on having fun and enjoying themselves. There is often little ego involved and most women (at least the ones I met over the years) are not deliberately attempting to make a certain impression with regards to their rock climbing accomplishments and/or goals.
I think because of this, or may as a result of this, women rock climbers are smooth operators having fun doing something they really enjoy. I think that is sexy. I think women rock climbers are the sexiest women I have ever met. I love to see them happy and excited about what they do and see that they feel great and enjoy participation in a challenging and demanding sport. It's fun to watch.
Women rock climbers seem to me to thrive to achieve their best when they're having fun and enjoying what they're doing and they can simply claim the "moment", by being so focused in that moment. That passion and the energy of being in the moment, allows them to find the flow and
the connection between momentum and the motion, and they subliminally engage all of my senses in the direction of the purpose of the moment.
When the moment is over, they feel an incredible feeling of satisfaction and emotional elevation. They are truly happy and life becomes a bundle of joy and contentment.
And there is the seductiveness that most people refer to when they talk about sexy rock climbing girls, or what we call "rock climbing babes". Apart from being terms of endearment, these babes personify an exotic and seductively attractive inside and outside, someone who seems somewhat aloof and removed.
The seductive power of women rock climbers is legendary in the rock climbing community. They seem to possess great self-confidence which most of us men just love to bask vicariously in the glow of a woman's great inner beauty and a seemingly sincere individuality and uniqueness. This is so incredibly seductive and sexy.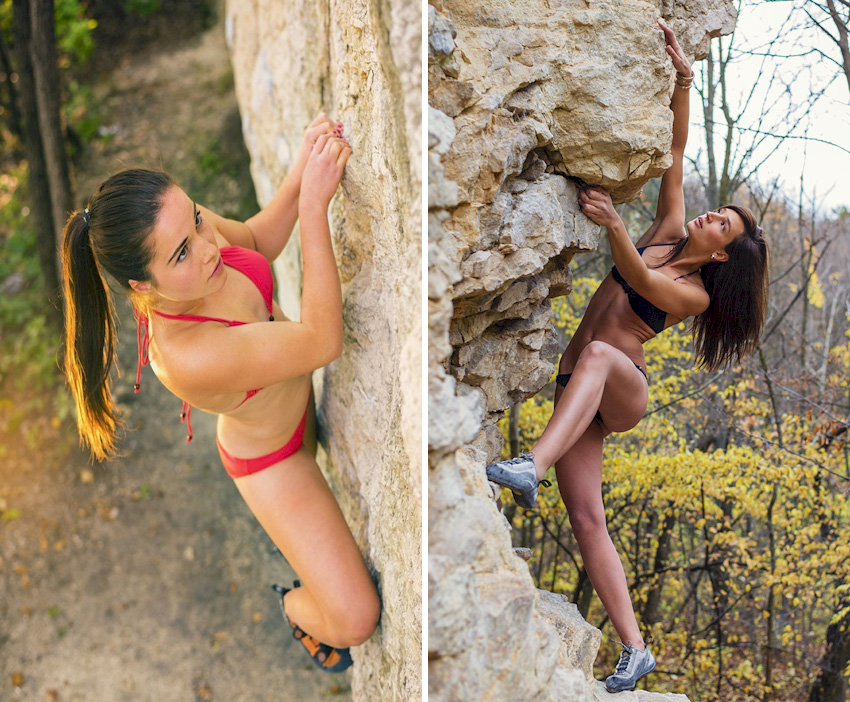 This self-confidence in rock climbing women is often not a fake seductive behavior but it is an integral part of the person that they are and that is the amazing seductive pull about them. Their energy waves are in perfect harmony and seductiveness becomes a part of their personality
and how the walk or how they talk and how they behave. This great harmony makes them more attractive with a relentless seductive power like a very strong magnet. This is a bit different than just being a "hot babe" or a "sexy girl". There is so much more. This is about the perfect synchronization of their sexual energies and romantic pull. You may suggest at this part of the article that I am obsessed. But that is precisely my point. I am referring to incredible sexiness and seductive attractiveness.
I also find that women rock climbers make me feel and behave who I am inside and I can be and project who I am without any reservation or any fear of being rejected as a result of some else's insecurity. I think this is the most important element in a seductive person: the ability to make us feel ourselves and ultimately at ease.
A confident girl that is content with herself and perfectly happy inside her own skin is someone who is not ashamed or concerned about her accomplishments and therefore can modestly listens to others and as a result of which, make us feel comfortable to be ourselves and be honest about who we are and what we are.
Therefore, in my opinion at least, rock climbing women are the sexiest women I have ever seen and almost always have fallen to their power of seductiveness and self-confidence.